How do you define economics? What's it all about? How does the economy relate to our lives and what's the difference between democracy as a political system and capitalism as an economic system? Lots of good questions to ask and this lesson provides an interactive and fun way for students to work together on the answers. Welcome to Defining Economics, a lesson from the Teaching Economics As If People Mattered series, brought to you by United for A Fair Economy, Reach And Teach, and Tamara Giecek. Everything you need to teach this lesson to a High School group, an after-school youth group, or in a faith-based organization is right here on this page.
The following information will help you prepare to have a lively, engaging, and effective hour of learning with your group. This page includes an animated presentation which introduces all the concepts taught in the lesson and shows you, step-by-step, how to prepare for and teach the lesson. Print out the lesson plan and charts and then launch the animated overview (below).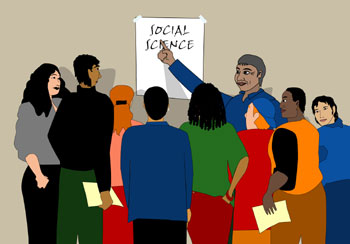 Learning Objectives
This lesson, which takes approximately one classroom hour (55 minutes) has the following learning objectives:
Define economics and discuss how the economy relates to our lives.
Differentiate between democracy as a political system and capitalism as an economic system.
Concepts and Key Terms
The following concepts and key terms are covered in this lesson:
economics
resources
consume / consumer
goods and services
capitalism
democracy
American dream
meritocracy
Download Lesson Plan
Click here to download the entire lesson plan (requires Adobe Acrobat)
Overview Presentation
Before viewing this presentation, you will need to download and print out the lesson plan and you also need to have writing paper and a pen or pencil. The presentation includes a voice-over so please turn your computer speakers on. The presentation provides an overview of the concepts covered in Defining Economics as well as step by step instructions for carrying out the lesson plan in your classroom. The entire multimedia presentation takes approximately 10 minutes.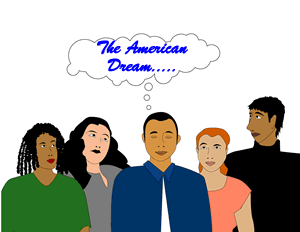 Click here to view the presentation
Articles and Other Web Resources
While the lesson plan provides everything you need to carry out the lesson in your classroom, you may want to familiarize yourself with recent articles and web resources concerning the issues raised in this lesson. We have selected several for you and have linked to them below. We encourage you to explore other resources and ask that you let us know of other links we should add to this page.
National Standards Mapping
This specific contents and discussion topics provided for in this lesson map into the following National Council on Economics Education (NCEE) standards:
Standard 1 (consumers and consumer economics)
Standard 2 (effective decision making)
Standard 3 (economic systems)
Standard 16 (role of government)
United for A Fair Economy (UFE) and Tamara Giecek created a High School curriculum based on many of the popular seminars and programs UFE delivers to adults across the United States. The entire curriculum is available in book form through the UFE web site as well as at the Reach And Teach Store.

Reach And Teach, UFE, and Tamara Sober Giecek are working together to update the curriculum and create an on-line version of all the lessons similar to the lesson we have provided on this page. We are currently working with various foundations and private donors to raise the money needed to bring this wonderful educational opportunity to the web. Teachers across America will be able to use the overview presentations to prepare to teach and then download the lesson plans, share ideas with other teachers about new ways to teach the lessons, and recommend additional lesson plans to the Teaching Economics team.

Would you like to help make this a reality? If so, click here to make a donation to United for A Fair Economy and click the Ten Chairs box to designate your donation to helping us get the rest of the Teaching Economics lessons on the web!